Background
In order to meet the requirements of survival and development in international competition, modern industrial enterprises must continuously develop new products with high quality, low cost, and quick launch. The computer's powerful storage capacity, fast processing speed and interactive interface graphics capabilities have become a good way to realize the automation of complex engineering design or production tasks, shorten the product development cycle and reduce production costs. Modern high-frequency (MW/RF/HSD) designs are increasingly limited by space (maximize the IC throughput of each chip, reduce product size, increase functions in lighter and small packages, etc.), FCBGA, WBBGA , System-in-package (SIP), stacked chips, package-on-package (POP), multi-chip modules, etc. are becoming more and more common. It is necessary to accurately analyze the parasitic interaction within and between IC, package and circuit board interconnection. Hermes 3D solution launched by Xpeedic solves the above-mentioned problems well and introduces a very simple and easy-to-use simulation analysis process to help designers accelerate design iterations. Hermes 3D software accurately simulates the three-dimensional model based on the finite element algorithm (FEM), which can quantitatively calculate the interaction of these parasitic structures.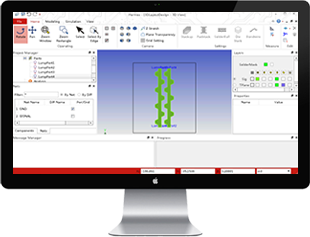 ---
Overview

Xpeedic Hermes 3D uses accuracy mesh encryption technology to make the finite element method practical. The generation of the initial grid (dividing the geometry into tetrahedral units) is based on the geometric structure shape. The initial grid can be used to quickly solve and provide field solution information, and then the grid is encrypted and refined only in the required area. Its iterative solution technology saves computing resources and obtains maximum accuracy. When necessary, manual meshing can also be conveniently used to guide and optimize the solution for accelerating mesh refinement matching. Hermes 3D's embedded three-dimensional full-wave high-precision electromagnetic simulation engine FEM3D Solver can cover the simulation frequency of DC-THz, fully meet the accuracy requirements of high-speed and high-frequency applications, and can perfectly support cross-scale simulation from nanometer to centimeter level; Hermes 3D's powerful parametric scanning function performs hypothesis analysis by changing the properties of pad, stack, routing layer and back hole depth, and can easily compare the result curves. Using a unique electromagnetic field simulation engine can efficiently and accurately extract S- parameters for designers, and optimize the design by changing the routing length, width, spacing, setting pad, lamination and other physical parameters. Hermes also provides the function of exporting to HFSS. The output file format includes a vbs script that can edit the model structure and a python script that can be quickly imported for users to choose, so as to quickly build a model.
---
Main Features
Support design file simulation of multiple package forms, including WireBond (QFP/QFN/WB/BGA), FlipChip (FCBGA/FCCSP) and 2.5d/3d packages (MCM/3D-FOP/INFO). Realize the integrated process of importing, stacking, automatically adding ports and starting simulation of various layout files.

Support automatic setting of the correct electromagnetic boundary and parameter scanning, including but not limited to material thickness, metal wire width, medium characteristic parameters, etc.

Support format conversion of S parameter / Y parameter / Z parameter and frequency-based RLGC file format conversion.

Embedded in the industry's leading three-dimensional electromagnetic simulation engine FEM3D Solver, covering DC-THz high-precision and fast simulation, and supports cross-scale simulation from nanometer to centimeter level.

Equipped with Mesh Tunneling mesh adaptive meshing technology, under the premise of ensuring the accuracy of heterogeneous packaging, the solution scale is greatly reduced and the simulation efficiency is improved.

Embedded in two simulation modes "Accuracy" and "Speed" to help users quickly switch grid and FEM3D Solver settings according to simulation requirements, thereby improving software ease of use.

Support advanced layout repair function, automatically repair the sharp corners after cutting, providing a more stable and friendly simulation structure for simulation.

Increase mesh and 3D structural model checking to reduce the risk of simulation errors.

Support one-click export to HFSS. By choosing different export file formats, users can independently select editable model formats or faster imported Python script structures, and automatically create 3D models, airbox, materials, laminations, incentives, simulation boundaries and frequency settings.
---
Related Downloads