Background
As Moore's Law continues driving the development of electronics industry, the relevant products have been moving forward with more functionalities, higher integration, higher signal speed and shorter R&D cycle. Even though Moore's Law gradually approaches the physical limit, IC manufacturing process and packaging technologies keep advancing. The heterogeneous integration based on advanced packaging technologies has further promoted the electronic system design in terms of high frequency, high density, and high integration. To meet the requirements of system modularization and custom design, the R&D of PCB and substrate products faces many challenges such as different manufacturing processes, multi-field electrical topology, setting and checking of physical layout rules, and plenty of cross-platform iterative simulations. Meanwhile, the demand for system-level electro-thermal co-design analysis is becoming much more urgent.
For the most important part of an electronic system, PCB design not only needs to complete the interconnection between components, but also considers the combination of high speed, high density, electromagnetic and thermal requirements as well as the design rule constraint, reuse, and checking. In addition, PCB design also addresses various challenges from PCB fabrication process.
Genesis is a new EDA platform for the board-level system design of advanced packaging and PCB. It provides the functions of multilayer cross-dimensional design, component selection, library building, and the entire flow of schematic and PCB design. Besides, Genesis is the industry's first board-level system design kit based on the concept of "simulation-driven design". Powered by Xpeedic's own simulation platform and capabilities, it supports the collaborative analysis at the different design cycles, helps to identify and solve problems of electronic, magnetic, and thermal performance in the early stage, realizes a unified system simulation and design solution, and greatly improves product development efficiency.
---
Overview
Genesis, a board-level design platform, focuses on optimizing the efficiency of high-frequency design and the convenience of application. It improves the user experience through the unified interface and interaction logics. Compared with other similar tools in the industry, Genesis has an advantage of fewer design and optimization iterations based on fast simulations of critical components enabled by its suitable tools. For the current release, it includes main parts of project management, schematic design, PCB design as well as schematic symbols and packaging library design modules for the system.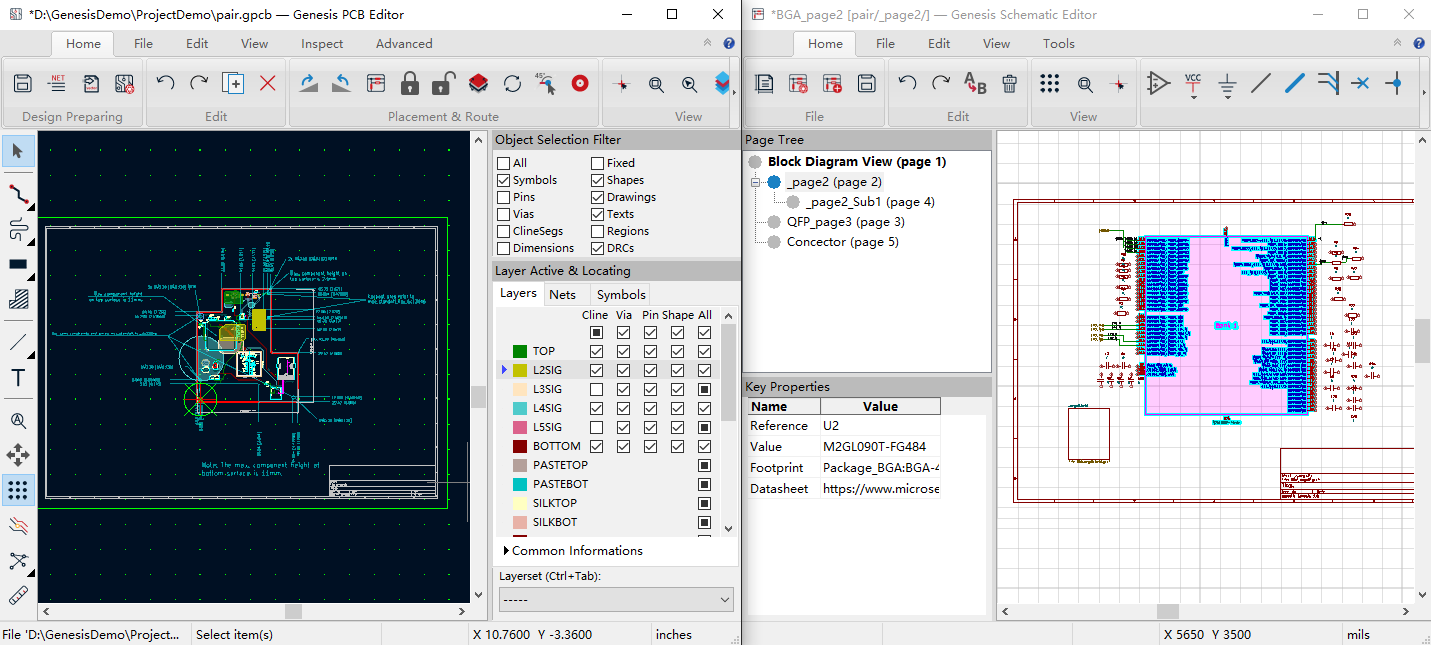 ---
Highlights
Convenient engineering data management.

Easy schematic drawing and layout routing reuse by diversified approaches and operations.

Efficient editing and checking through design layer\via\pad\copper foil \trace filtering and selection.

Optimization and editing in symbols, schematic, footprint, and PCB design by automatic synchronization of package name, component value and custom attributes.
---
Main Features
Support importing database of Allegro *.brd and AD *. pcbdoc directly

Support single-unit and multi-unit schematic symbol design

Support fast search and reuse through existing schematic symbol libraries

Fast multi-pin editing by importing templates, and support multiple package type and custom property settings

Draw single/multi-page complex schematic diagrams of the hierarchical circuit.

Enable convenient and fast modular schematic definition and flexible ports connection

Support netlist and BOM data export

Quick modules paging and interactive highlighting

Support common standards, non-standard package pad definition and package quick search, reuse, and parametric design

Import third-party netlist and mechanical DXF file

Support cross-page schematic, automatic grabbing and placement, quick component switching, alignment and arrangement

Support single-ended, differential-pair routing and length matching adjustment

Support design rules matrices of regular objects and turn on/off DRC

Support conductors, fabrication reference layer activation and hide/display toggling

DRC updating and positioning, support the measurement and verification of spacing rules

Export PCB manufacturing artworks, drilling, IPC, DXF, IDF files

Support the design information collection and routing length statistics
---
Related Downloads