Background
Xpeedic IRIS provides high frequency silicon design engineer a 3D fast EM simulation tool integrated in Cadence Virtuoso design flow to analyze on-chip passive devices. IC designers now have an automated way to access EM analysis of passive devices without limiting them to any specific PDK. IRIS is now an indispensable tool for the modern designer.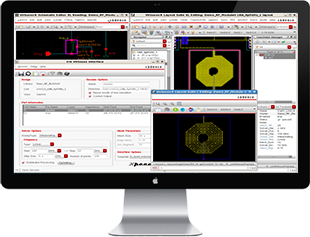 ---
Highlights
3D full-wave accelerated method integrated Cadence virtuoso.

Support to mesh sidewall.

Support optimized rectangle-triangle mixed mesh result in mesh element reduction and mesh regularization.
Accelerated MOM solution simulate complex electromagnetic environment including skin effect, proximity effect and multilayer dielectric losses

Support multicore parallelization calculation and distributed processing

Support to use multithreading technology to create Green's functions

Auto port searching and setting, simplifies EM setup

Auto via array defeaturing

Easy to remove hole and improve simulation speed

Support adaptive mesh,auto defined metal model (sheet, thick, 3D), auto defined mesh size based on model physical size

Multiple simulation jobs for batch run

Easy export to HFSS/HFSS 3D Layout project

Support back annotation

Support bias table and rho table in IRIS to account for technology variations for advanced IC nodes