Background
As Moore's Law is gradually approaching the physical limit, system designers prefer   heterogeneous integration technologies. 3DIC and Chiplet are realized through heterogeneous integration, which provides additional opportunities for system function integration and chip cost optimization, and has been widely used in HPC, data center, high-end router and other applications. The success of HBM is a good case of heterogeneous integration advantages. Through advanced packaging and integration technologies, HBM can achieve higher storage capacity and reduce the delay between computing and storage to meet the needs of high-performance computing. However, heterogeneous integration raised the technical challenge to designers: High-speed SerDes and Memory interconnection require powerful full-wave 3D electromagnetic solver. Traditional RC extraction tools cannot meet the accuracy requirements, and mainstream electromagnetic simulation tools cannot solve the issues of cross-scale for heterogeneous integration cases from chip nanometer level to package centimeter level. Metis solution solves these problems well for heterogeneous integration and introduces a very simple simulation process to help designers accelerate design iterations.
---
Overview
Xpeedic Metis is an EDA platform for chip, 3DIC, Chiplet or advanced package co-simulation. It provides convenient integration with chip design tools and package design tools, avoids complex settings of traditional EM tools, quickly and accurately optimize the whole physical design by considering key structures; The three-dimensional full wave high-precision electromagnetic solver (MOM solver) can cover the simulation frequency from DC to THz, fully meet the accuracy requirements of heterogeneous integration, such as high-frequency interconnections, and can perfectly support cross-scale simulation from nano to centimeter level; Metis integrated technologies developed by Xpeedic such as Absorbing Fence, Magnetic Current and Mesh Tunneling, which can achieve the simulation requirements of ultra-large-scale heterogeneous integration and ensure accuracy.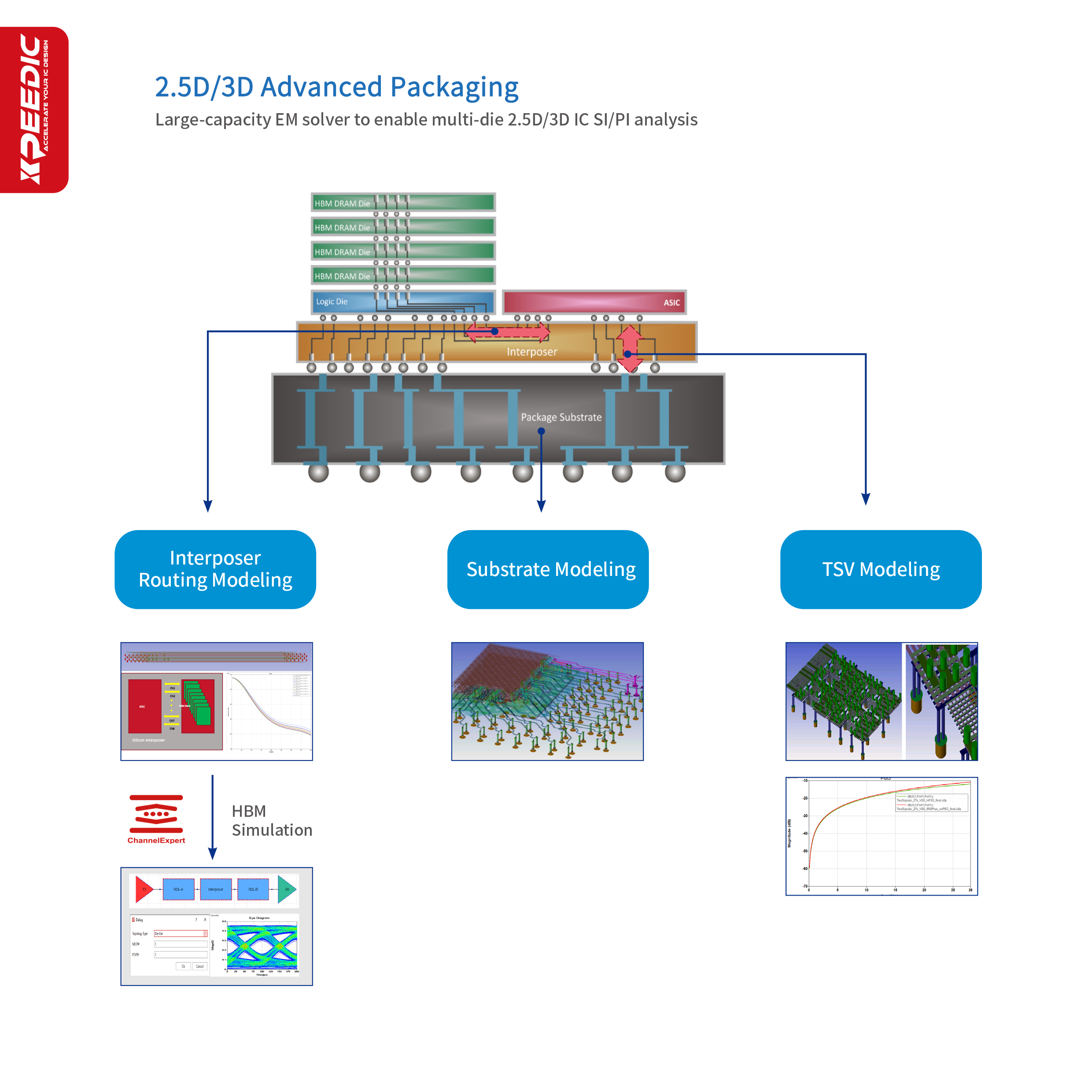 ---
Main Features
Support Die-Interposer-Package co-simulation, including chip and package co-simulation, 3DIC co-simulation, advanced packaging and PCB co-simulation, realize the integrated process of importing designs, design stacking, automatic port creation and simulation.

Three-dimensional electromagnetic solver (MOM solver) provides the high-precision and fast simulation, and supports cross-scale simulation from nanometer to centimeter.

Mesh Tunneling technology for adaptive meshing, ensuring the accuracy of heterogeneous structure, and greatly improving simulation efficiency.

Metis embeds XHPC and XCloud modules, manages all simulation projects through the built-in simulation task management platform JobQueue, and supports two-level distributed acceleration technologies: matrix-level distributed computing and parallel computing technology.

Three typical simulation modes of "accuracy", "balanced" and "speed" for different requirements during simulation flow, which can help users quickly switch mesh and EM solver settings.

Wizard flows for 3DIC and Package design analysis, with step-by-step operations.

Support TSV structure.

Support advanced layout repair functions, especially the corners and arc areas, providing a more stable and friendly simulation structure for simulation.

Real-time mesh display and check functions to ensure consistence of mesh division and avoid simulation issues.

One-click export file to HFSS, and automatically create 3D models, Airbox, materials, stacks, excitations, simulation boundaries, and frequency settings.
---
Related Downloads