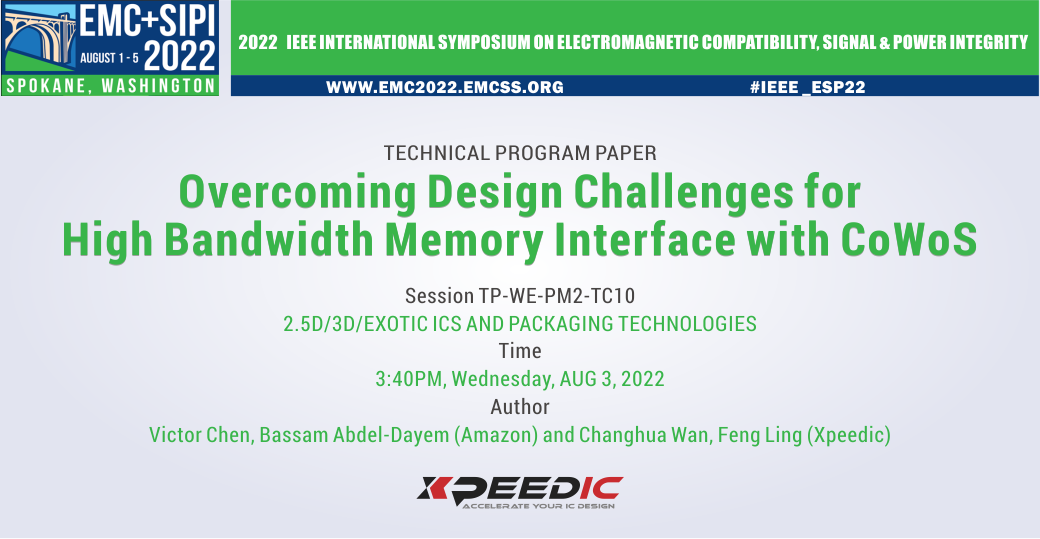 Overview
Xpeedic will present its latest innovation in 2.5D/3DIC at IEEE EMC+SIPI 2022 in Spokane, WA, Aug 3, 2022.
EMC+SIPI 2022 provides state-of-the-art education on EMC, Signal Integrity and Power Integrity design and measurement techniques. The Symposium will feature technical sessions, interactive workshops/tutorials, standards sessions, experiments and demonstrations, technical exhibition and social networking events.
Join Xpeedic for technical sessions to learn its latest innovations to address simulation challenges in 2.5D/3D IC designs.
---
Technical Sessions

The paper co-authored by Amazon and Xpeedic will be presented by Dr. Feng Ling, Founder and CEO of Xpeedic, in Session TP-WE-PM2-TC10, 3:40PM, Aug 3, 2022. 
Overcoming Design Challenges for High Bandwidth Memory Interface with CoWoS

Session Title: TC-10: 2.5D/3D EXOTIC ICS AND PACKING TECHNOLOGIES

Session Abbreviation: TP-WE-PM2-TC10

Session Time: 3:40PM, Aug 3, 2022

Authors: Victor Chen, Bassam Abdel-Dayem (Amazon), Changhua Wan, Feng Ling (Xpeedic)

Abstract: High bandwidth memory (HBM) with Chip-on-Wafer-on-Substrate (CoWoS) packaging technology to achieve chiplet-based heterogeneous integration systems is increasingly adopted by the industry. Due to the number of IOs and micron-scale structures, signal integrity analysis becomes challenging. This paper presents a novel EM solver with high capacity and scalability. An automated design flow is developed on top of the solver to facilitate the simulation of HBM interfaces for CoWoS. Various HBM interfaces are simulated for both CoWoS-R and CoWoS-S. Their performance is compared.