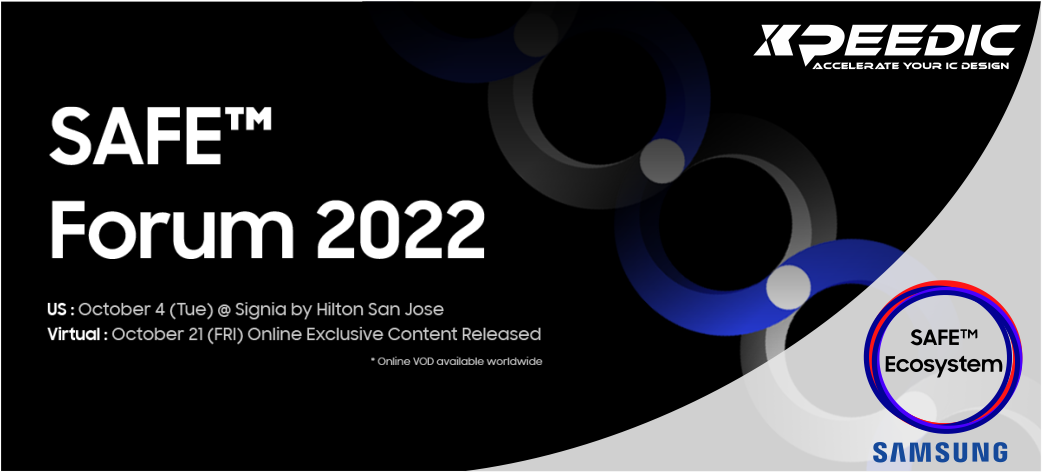 Overview
As Samsung Advanced Foundry Ecosystem (SAFE™) partner, Xpeedic will be exhibiting at Samsung Foundry Forum & SAFE™ Forum 2022 US on October 4.
At the Samsung Foundry Forum, participants can gain insight on our vision and latest technological innovations, hear from top technical experts as well as an industry guest speaker.
At the SAFE Forum, participants can hear about industry trends and learn from Samsung SAFE partners as they present solutions to EDA, IP, DSP, and Packaging challenges. 
---
Presentation

Dr. Feng Ling, Founder and CEO of Xpeedic will give the presentation with the title 
Addressing EM Simulation Challenges in 3DIC with Samsung Advanced Packaging Technology

HPC applications drive chip designs from monolithic SoC to multi-chiplet architecture. Traditional EM simulation tools need a revisit to adapt to this new chiplet architecture from system planning to sign-off. Xpeedic's multi-scale solver technology is a perfect fit for this chiplet environment.The presentation will introduce Xpeedic 2.5D/3D multi-die chiplets solution and success stories on Samsung's advanced packaging examples to address EM Simulation Challenges in 3DIC and demonstrate its key advantages on capacity and accuracy.