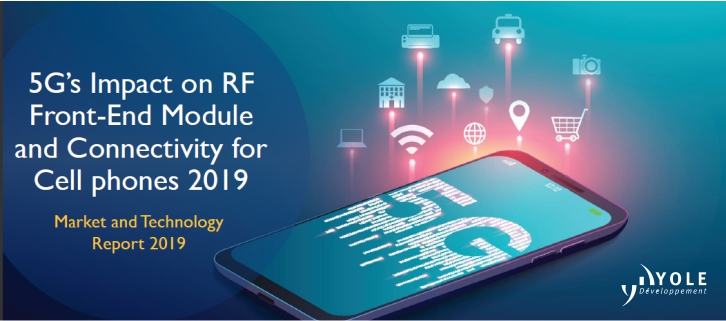 Yole Développement (Yole), the "More than Moore" market research and strategy consulting company released the latest report on "5G's Impact on RF Front-End Module and Connectivity for Cell Phones 2019″, describing the market of RF front-end and forecasting the development trends. For the first time, Xpeedic Technology is positioned as the leading provider of IPD (Integrated Passive Devices) filters in this report. The company has been working in IPD filter market for couple of years and now is playing an important role in the global 5G RF front-end supply chain.
With LTE, RF front-end market growth came from carrier aggregation and MIMO technologies. 5G will augment RF front-end market growth with additional frequency bands, dual connectivity implementation, and the transition to 4×4 MIMO in the downlink direction, plus a trend towards 2×2 MIMO for the uplink. As a result, the overall RF front-end market (which was $15B in 2018) will grow at an 8% CAGR, reaching $25.8B by 2025. Filter will continually account for the largest share of global RF front-end distribution, and its shipments will grow from 53 billion units in 2018 to 100 billion units in 2025 at a double digit CAGR, of which IPD filters will grow at a CAGR of more than 16%.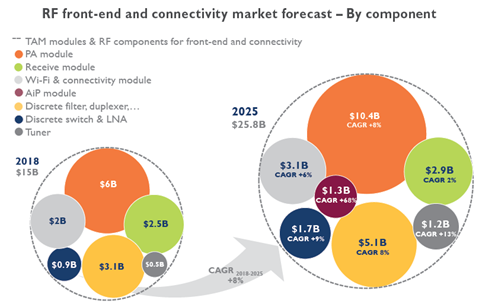 RF front-end and connectivity market forecast(From:Yole, August 2019)
Yole's report provides a comprehensive analysis of filter and duplexer supply chain. The conventional filter and duplexer business, which supplies cell phone makers either stand-alone ones or integrated ones in RF front-end module, faces growing competition from fabless PA companies working hand-in-hand with design companies for both acoustic wave filters and IPD filters, of which Xpeedic is the leading IPD filter design company. By partnering with IPD foundries, Xpeedic delivers the IPD filters to fabless PA companies, which then supply the PA modules to cell phone makers. This disruptive approach has become a great alternative to the conventional one in the filter and duplexer supply chain.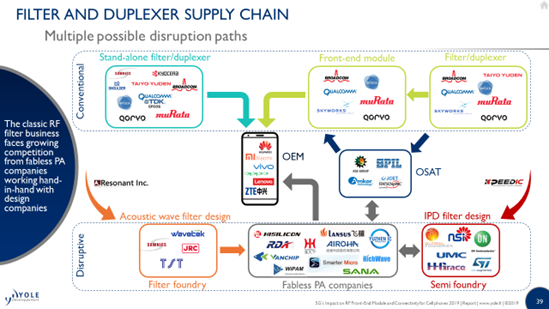 Filter and Duplexer Supply Chain(From:Yole, August 2019)
"Yole's report provides an overview of RF front-end supply chain." said Dr. Feng Ling, CEO of Xpeedic Technology, "Xpeedic has been a leading IPD filter supplier. By partnering with leading IPD foundries, Xpeedic can provide customerized IPD filters to RF front-end module companies with fast turn-around. Xpeedic is ready to provide IPD filters for 5G front-end modules."