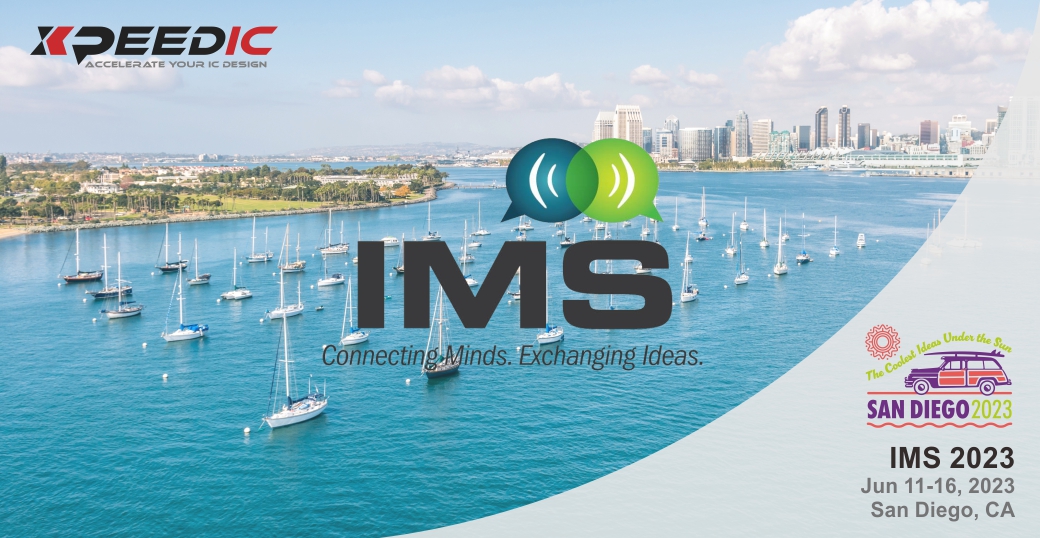 Overview
Xpeedic will showcase its latest RF solution at the IMS 2023 in San Diego, CA, June 11-16.
The annual IMS Exhibition is held in conjunction with the IEEE MTT International Microwave Symposium (IMS), RFIC, and ARFTG Technical Symposia and offers an excellent opportunity for all segments of the microwave community to meet. 
---
MicroApps Session

WEMA23: Overview of Integrated Passived Devices (IPD)for RF Front-end Applications

Speakers:Feng Ling, Lijun Chen (Xpeedic)

Location:MicroApps Theater, Booth 2447

Time:15:00-15:15, Jun 14

Abstract:Integrated passive devices (IPD) have been prevalent in RFfront-end modules in both cellular and wireless connectivityapplications due to its advantages in terms of compact sizemanufacturing consistency, integration capability, and lowcost. Various technologies such as high-resistivity siliconbased and through-glass-via (TGV) based IPD have beendeveloped. Their use in RFFEM for 5G NR filters will bedemonstrated and compared. Besides the cellularapplications,IPD for IoT and wireless connectivity market isalso introduced. Integration of multiple passive functionssuch as balun, divider, filter, and matching network enablesIPD as an all-in-one die for this type of application.
---
Booth Demo
Xpeedic RF EDA/Filter Design Platform to support chip-package-module-board designs:
EDA
System
XDS RF system-level design and simulation platform providing schematic design and simulation,      post-layout electromagnetic simulation, EM-circuit co-simulation and tuning/optimization.
IC
IRIS On-chip passive modeling and simulation for RFIC designs with accelerated 3D EM solver, and certified by advanced nodes technologies

iModeler Passive model generation with built-in MoM cap, MiM cap, inductor and transformer      templates, parameterized result exploration with built-in templates.

iVerifier Fast passive verification by comparing the EM results of the PDK parameterized models, the neural network training model results, and the SPICE results of the equivalent circuit
---
Mass-Production Proven Filter IP

IPD
IPD-Integrated Passive Device is essentially a passive device integration technology based on silicon or glass . Xpeedic provides RF front-end and on-chip transformer IPD solutions for consumer and industrial markets. The advantages of adopting Xpeedic's IPD solution include:
IP library for filters, power dividers, couplers, baluns, multiplexers, and matching network;

Trusted foundry and package ecosystem partners, Supported over 1.8 billion shipments and dozens of product mass production;

The R&D team has excellent capabilities and has been designing hundreds of products for over a decade, accumulating nearly one hundred related patents;

Quick turnaround for customization supported by dedicated engineering team and home-made EDA design flow.
Chip Cap

Xpeedic chip capacitors provide high density, small size and high performance, it is a high-end alternative to MLCC. It has the following characteristics:
High stability over temperature

Signal stability over frequency

Stability regarding voltage

Multi terminal and Customized

Cap Range: 0.1pF~1000nF

Low profile:<100um

Decoupling& ultra broadband applications