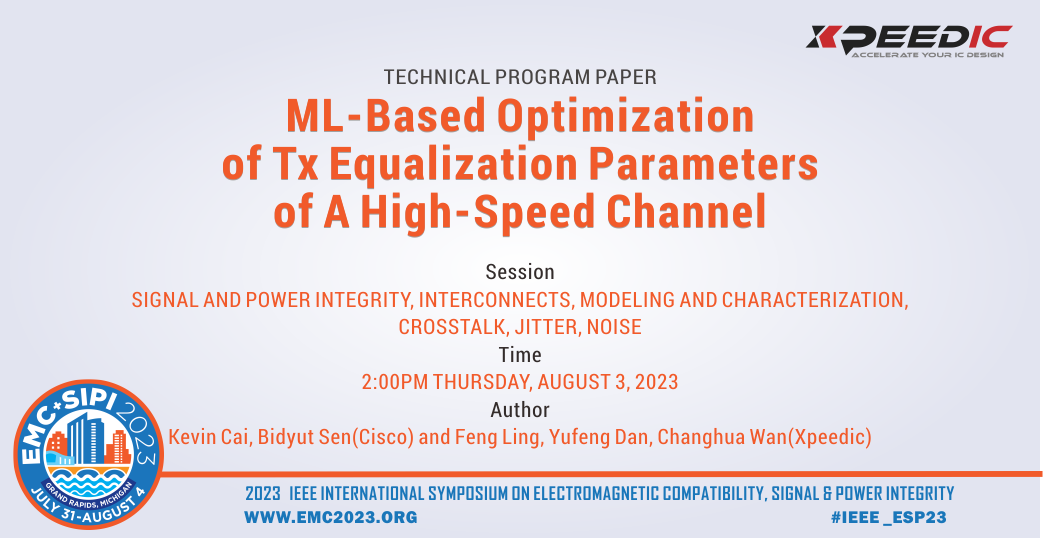 Overview
Xpeedic will present an AI-powered high-speed channel analysis solution, co-authored with Cisco, at IEEE EMC+SIPI 2023 in Grand Rapids, Michigan, July 31 – August 4, 2023.
EMC+SIPI 2023 provides state-of-the-art education on EMC, Signal Integrity and Power Integrity design and measurement techniques. The Symposium will feature technical sessions, interactive workshops/tutorials, standards sessions, experiments and demonstrations, technical exhibition and social networking events.
Join Xpeedic for technical sessions to learn its latest innovations to address simulation challenges in high-speed channel designs.
---
Technical Sessions

The paper co-authored by Cisco and Xpeedic will be presented by Dr. Feng Ling, Founder and CEO of Xpeedic. 
Machine-Learning-Based Optimization of Tx Equalization Parameters of a High-Speed Channel
Session Title: TC-10: SIGNAL AND POWER INTEGRITY, INTERCONNECTS, MODELING AND CHARACTERIZATION, CROSSTALK, JITTER, NOISE

Room: Gallery Overlook H

Session Time: 2:00PM  THURSDAY, AUGUST 3

Authors: Kevin Cai, Bidyut Sen(Cisco); Feng Ling, Yufeng Dan, Changhua Wan(Xpeedic)

Abstract: 
We propose a machine-learning-based optimization approach for the Tx equalization.  Our target is practical high-speed channels used in systems requiring industrial communication protocols. We adopted Random Forest as our basic machine learning algorithm and applied it to low, medium, and high loss channels with 3-tap and 5-tap Tx equalization architectures. Our  machine-learning-based optimization results showed the outstanding efficiency and accuracy of the approach.